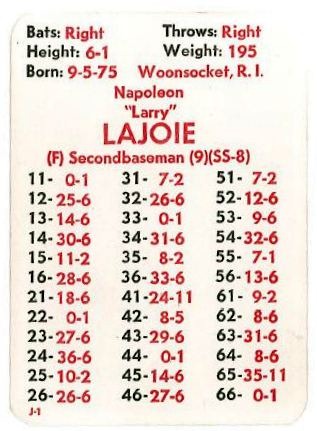 Scott Fennessy just sent me this fantastic recap of his 1901 replay.  I'm actually splitting it up into two posts. I'll post his write-up on his World Series replay in a couple days. 
Anyone interested in doing a deadball replay should seriously read this write-up by Scott.  Not only does he give a detailed team-by-team analysis but he discusses his methods, intentions, highlights and yes, some of his frustrations with the teams and players.  Thanks, Scott!
-Tom
First off I wanted to thank Tom for inviting me to post this article on my first ever full season replay. I am still in the process of converting all my hand computed stats, and while I have all the totals, I don't have anything set up on spreadsheets for review, but if anyone wants info on a specific player just let me know and I will provide what info I have. Because I am doing all the stats by hand I did not keep stats on a level such as Baseball reference.com, but I covered the main. (I noticed far too late about runs scored so I decided not to start after 2 months of stats had been recorded and the score sheets were shredded)
So first a bit of a breakdown on what motivated a guy like me who had for a good portion of my APBA days preferred the power hitters to play a dead ball era season? I always have been fascinated by the players of the early days and had actually suggested that APBA create a set from the 1876 inaugural season for the National League, but after going to baseball reference's site I see why they have not. I have since purchased the baseball for windows and have created every team and in process of playing this electronically. But I digress, I am a Chicago Cubs fan first, and a baseball fan second, and wanted to travel back in time as far as APBA could take me so 1901 was it.
Regarding the teams in general, defense is almost nonexistent. There are some fine individual defenders, but most of the teams are fielding 3 and in some cases would be fielding 4 if the charts went that low, with the Braves being the only fielding 1 team I could put together. Nearly every player has error numbers at 53 and 21, and I had 5 teams commit 200 or more errors as a team, with 2 more committing 190 or more in just 140 games. There is an unusual number of players with 23 on their cards, so third basemen were dropping like flies. Charlie Dexter of the Cubs, Tom Leach of the Pirates, and Fred Hartman of the White Sox visited the DL 7 times each.
Pitching and speed were king. That said there were in fact some power hitters in the game. I had never bothered to use the games restricted as I usually played under the theory "what if this player played a full season instead of being a September call up?" Fortunately I have never had a player with a monster card that would have altered history drastically so it has never been an issue before. That said I had considered using a games restriction but after seeing how small some of the rosters were (the White Sox have 10 position players the Indians 11) I decided to just play the best 9 I could, and nobody seemed to put up super human numbers. Regarding the post season awards; the AL MVP was a no brainer and I made the selection myself, but I emailed several friends regarding the other awards as it was too close to call on my own.
So here is a brief description of each team. I played the entire 140 game schedule provided by the fine folks at APBA and went with a 3 man rotation for every team. Starting with the American League review:
Final Standings 1901
American League
White Sox
107
33
A's
84
56
Red Sox
79
61
Orioles
71
69
Tigers
70
70
Senators
49
91
Brewers
48
92
Indians
44
96
AL MVP
Napoleon Lajoie
Philadelphia A's
.422 AVG
16 HR
147 RBI
55 SB
AL Cy Young
Cy Young
Boston Red Sox
33-11
2.36 ERA
157 K
Chicago White Sox
The best overall pitching staff in the AL, featuring 2 A starters James Callahan (35-10 1.99 ERA .71 WHIP) who also rated at second, 3rd and OF and VERY deserving of a monster Monday card, was the opening day starter and #2 man and future Twins owner Calvin Griffith (32-12 3.10 ERA) as well. 2 B starters Jack Katoll out performed his B (Z) card finishing with a 32-9 record. Manager Fielder Jones (.316 AVG 2 HR 70 RBI and 60 SB) paced the team that cruised to the AL Title. Roy Patterson racked up 21 saves, despite not seeing a lot of action.
Philadelphia A's
The team I expected to give the Sox their biggest threat, and they actually were in front at the half way point, but then the injuries piled up and they faded badly. That said I think I enjoyed playing this team more than any around, and not just for league MVP and last week's monster Monday card Napoleon Lajoie (.422 AVG 15 HR 147 RBI 55 SB .463 OBP) Lafayette Cross (.315 39 SB) was having a great year before he went down. Jasper Davis (.288 AVG 11 HR 106 RBI) Outfielder Matt McIntyre went down next which allowed for an interesting development as pitcher Bill Milligan D(Z) starter who was rotting in the bullpen and not exactly shutting anyone down was rated as an OF 1 and had a 1-2-2-1 so I put him in and about 50 games as the replacement finished with a .245 AVG and 15 HR. "Socks" Seybold would have hit the 100 RBI mark but missed the final 3 games with an injury. Final numbers were (.304 AVG 5 HR 99 RBI) and while a fine season underperformed his 0-1 0-1 0-1 0-1 card fairly badly for power numbers. Eddie Plank ( 30-11 2.80 ERA) paced the staff.
Boston Red Sox
A team that I was pretty disappointed with. Cy Young, the highest rated pitcher in the game A&C (Z) won the award that would be named after him with an outstanding season (33-11 2.36 ERA 167 K) Jimmy Collins the first time I have ever seen a 3B6 defensive rating 01 01 01 01 with an 11 as well (.305 AVG 7 HR 51 RBI 46 SB) Buck Freeman paced the offense with a fine season (.334 AVG 12 HR 92 RBI)
Baltimore Orioles
John McGraw was the catalyst for this team hitting an even .300, but now the real numbers to watch, in 130 games he drew 115 walks while striking out only 3 times leading to his .436 OBP. He lead the majors with 96 steals. "Turkey Mike" Donlin stunned me with his numbers on a card that did not have all that much power 4 0-1's but these were the only 1's on the card and he finished with a fine (.348 AVG 14 HR 86 RBI 37 SB). Roger Bresnahan was the luckiest player in the game this season, despite having an 02-02-01 he hit 5 homers. John McGinninty won 30 games but still got hit to the tune of a 3.90 ERA 1.22 WHIP.
Detroit Tigers
Another team that I expected a little better numbers from. They usually beat the lower division teams, they also got roughed up by the top 3 teams, but the one consistent thing they did, and did well was run. 4 players had 45 or more steals and two cleared 50. Lewis McAllister was the teams best player his .325 AVG 6 HR 63 RBI and 53 SB led the way, Ducky Holmes did drive in 93 and stole 52, but was a major disappointment for a 4 0-1 card finishing with 6 HR and a .257 AVG. Ed Seiver went 23-18 with a 2.83 ERA, but there was little help from the rest of the staff.
Washington Senators
A pretty awful team, save San Dungan (.331 AVG 3 HR 72 RBI). Despite having 3 C starters nobody pitched well at all and the team ERA was near 5.00.
Milwaukee Brewers
Other than John Anderson (.299 AVG 10 HR 81 RBI) there was not a lot to root for on this team. Although I did try an experiment with Brewers outfielder David Jones (perhaps Adam Dunn in his first lifetime?) (.199 AVG 28 HR 64 RBI and 94 walks in 122 games was a J-4 that I played simply as no other outfielders were doing anything so I started playing him more often. While the stats he put up were not eye popping by today's standards was not realistic for the day. (I had some real luck hitting 1's on some players). Perhaps the ultimate "All or nothing" card I have ever seen; his card has the standard out numbers and nothing outrageous, but his only hit options are a home run or a single. The card is a 1-8-8-1 with an 11 and a 14*.
Cleveland Indians
This was a team I expected nothing from, and I was not disappointed. Just 2 years removed from the disastrous season of 1899 in which they put up the worst season in history, they fared little better in 1901. They did have 1 B and 1 C starter, they had almost nothing else at all. Ervin Harvey led the team (.312 AVG 1 HR 81 RBI) but other than Bill Bradley's 12 homers while spending a good portion of the time on the DL. He only had 3 1's so I was really surprised. Oliver Pickering stole 49 bases.
And for the National League…
Final Standings 1901
National League
Pirates
100
40
Phillies
97
43
Braves
85
55
Dodgers
80
60
Cardinals
62
78
Cubs
54
86
Giants
42
98
Reds
38
102
NL MVP
Ed Delahanty Philadelphia Phillies
.392 AVG
12 HR
112 RBI
48 SB
NL Cy Young
Vic Willis
Brooklyn Dodgers
33-11
1.66 ERA
96 K
11 Shutouts
2 No Hitters
Pittsburgh Pirates
Arguably the best overall team in the game. 3 A starters 1 B and 2 C starters as well. While nobody had a lot of power, every card was a threat. The only reason they did not run away with the league title was injuries to a couple of players, notably Tom Leach. Clarence Beaumont (.333 AVG 7 HR 78 RBI 50 SB) was even better than I expected and was the player who led the charge down the stretch when Fred Clarke (.330 AVG 4 HR 98 RBI) and "Honus" Wagner (.310 AVG 7 HR 87 RBI) stumbled at the end. Jesse Tannehill almost won the Cy Young award with an impressive 32-9 W-L 1.41 ERA 0.71 WHIP and took 5 no hitters into the 8th (every one broken up at 7.2 innings, which seems to be the magic number for me overall).
Philadelphia Phillies
An awesome team that was in the race until the final series of the season. This team could rake. Roy Thomas set the table at the top of the order with 105 walks and just 14 strikeouts. Although he stole 54 bases his .293 average was proof he didn't steal first base too. MVP Ed Delahanty hit .392 with 12 home runs while driving in 112. He also stole 48 bases and was at the heart of almost every rally. Elmer Flick was one of the players that challenged for the MVP title also hitting .359 with 6 homers and 136 RBI and 51 steals. The team motto must have been "crowd the plate" as Hughie Jennings (.304 AVG 100 RBI 47 SB was beaned 21 times. Thirdbaseman Harry Wolverton also got drilled 21 times 3 of them resulted in trips to the DL. 3 others were hit more than 5 times and they easily led the majors in this category. Al Orth (32-10) and Red Donahue (32-12 159 K with 1 no hitter) were extremely tough to hit, and "Doc" White was no slouch either, winning 29 games as a pitcher and as a hitter deserves a Monster Monday Card hitting .362 with 1 home run ant 19 SB as well.
Boston Braves
A team that vastly performed better than I expected. The only fielding 1 team and the defense saved many games/runs and allowed the pitching staff to control the games. They had to as the offense was a major disappointment. I didn't expect many stars but nobody on this team performed to their cards except leadoff man Billy Hamilton (no relation to the Reds minor leaguer) hit .286 and stole 47 bases. Only one other hitter cleared .250 and that was Gene DeMontreville at .254. Cy Young Winner Vic Willis was the king of the staff going 33-11 with 2 no hitter (both off the Reds in a 3 week span) and 11 shutouts. How they finished 3rd I have no idea, because looking at the numbers they were a horrible team.
Brooklyn Dodgers
Another good team that was decimated by injuries to key players. Jimmy Sheckard hit .316 with 8 homers and stole 54 bases. Willie Keeler may stand 5'4" but he hits like he is 10 feet tall and bulletproof. Hitting.369 with 44 steals and the master of the hit and run (3-31's) kept as many innings alive as he could. Bill Dahlen hit.279 with 6 homers and 85 RBI and 42 steals despite missing a quarter of the season and his loss really hurt. Combined with the loss of Duke Farrell missing half the season (he still finished with a .291 average and 81 RBI. Bill Donovan was among the better pitchers in the league (29-13 179 Ks 1 no hitter 1.67 ERA 0.79 WHIP) Jim Hughes was the biggest disappointment of the season. A grade B starter he went 18-20 and had an ERA over 8. I tried starting Doc Newton a C starter to limit the damage but he was not enough to stop the slide going 8-7 with an ERA over 4.
St. Louis Cardinals
As a Cub fan it is hard for me to do anything involving the Cardinals, but they had a pretty decent team they just did not have the horses to run with the top 2 teams. Jack Powell no hit the Cubs and became the only B starter to do this. I was so unhappy the dice took a trip across the living room. But that was the only highlight for the pitching. However things were much brighter offensively. They held the distinction of being the only team to field the same lineup all 140 games. Emmett Heidrick hit .339 8 HR and stole 44 bases, Jesse Burkett who was the most clutch hitter on the team hit .343 and stole 50 bases and drove in 86. Bobby Wallace seemed to thrive with Burkett in front and they became a devastating hit and run combo. Most of his .290 average seemed to come on 2 out hit and run situations.
Chicago Cubs
My beloved team. Unfortunately they don't love me as much as I do them. I knew from the start they would not be much of anything, but with 3 B starters and perhaps the fastest team in the league I had hoped for a little more. Of the famous Evers-Tinker-Chance combo only Frank Chance was on the roster at this point and while he didn't do a LOT offensively, he did lead the NL in steals with 92. Tullos "Topsy" Hartsel came out of nowhere to be the brightest spot offensively (.310 AVG 6 HR 46 SB). Shortstop Danny Green was one of only 4 players to hit grand slams this season finishing with a .262 AVG 9 HR 93 RBI and 43 SB. Rube Waddell deserved better numbers than he finished with at 22-18 but as a hitter was even better hitting 2 come from behind game winning homers and his final batting numbers included a .290 AVG 9 triples 5 HR and was actually a bigger threat than most of the regulars.
New York Giants
Only Christy Mathewson saved this team from the cellar. An A starter also rated as a 3B3. Final numbers (19-26 W-L 2.33 ERA) on a very forgettable staff. Only George Van Haltren had anything to smile about finishing with a 14 game hitting streak and a .311 AVG. George Davis hit 12 homers but only .268 for the season. 1 starter hit .208 and two more hit UNDER .200 and the reserves even worse.
Cincinnati Reds
And then came the Reds. This may well be the worst team APBA has ever produced. They were no hit 4 times during the season and Rube Waddell and Jesse Tannehill took no hitters into the 8th on them. "Noodles" Hahn was a great pitcher on a horrible team, yet he still won 19 games and had a 3.19 ERA. 6 of the 9 regulars hit under .250 and 3 under 200. None of the reserves cleared 200 and 2 less than 100. Only "Wahoo" Sam Crawford deserves mention his 0-2 0-2 0-2 1-2 card was impressive and his final numbers were .315 AVG and 21 homers. If he had had anything resembling base runners in front of him he would have cleared 100 RBI easily, but since everyone else stunk he was saddled with many bases empty situations and wound up with 76 RBI and second in the MVP balloting.
Thanks again to Scott Fennessy for sharing his work!  Great stuff!  Keep an eye out for his 1901 World Series replay recap in a couple days.