There was quite a revealing Facebook thread on APBA regarding basic game rules.  It started with Rob Wash posting a photo of Bruce Bochte and an roll of an 11.  See, Bochte has double columns but has a first column six.  Specifically, he has an 11-6-1.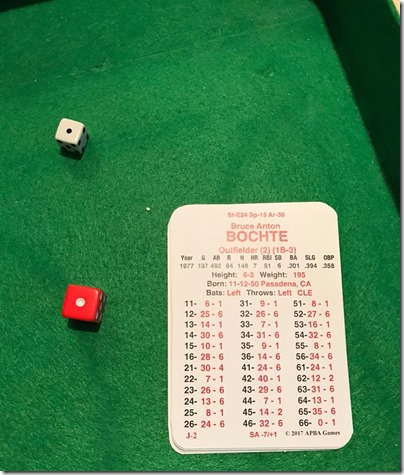 Rob's question was this:
Basic game rules question again. Hopefully I won't be advised to quit playing the game again. Andre Thornton at 3rd and Bochte at the plate. Roll 11-6, but he has two columns so I understand result is 5 and a double. This is how I ruled it. I've never had this come up before, and always assumed the double result was for a second column 6. Thoughts?
At first, many of us who have played the game for years were trying to grapple with the question.  With a runner on third, a first column 6 is a homerun, right? Since the beginning of time, a first column 6 was always a double unless the bases were loaded (triple) or if there was a runner on third (homerun).
Then the crux of the misunderstanding came through.  We were seeing it through the eyes of seasoned APBA players.  Rob Wash was understandably reading the boards and taking them literally.
And he was right.
David Hawkes contributed a photo of the uses of the Runner of Third board he uses:

Taken literally, Bochte has double columns so therefore his homerun should be changed to a 5 which is a measly double.  Even the new Master Game version of the boards has this "Double Column Cards" wording.
Have we been playing the game of APBA wrong all this time?  Pastor Rich Zawadzki led the charge in thread that it was a matter of interpretation.
According to Pastor Rich:
I've been playing APBA for almost 40 years…and…I never thought of it that way. Part of the reason that I believe that my interpretation is correct is that, an 11 result of 6-1 is a very new phenomenon. Up until very recently, there were NO double column cards with a result of 6 in the 1st column; it would be a 0-1.
It does read…
6 HOMERUN To left field (Double Column Cards, use # 5)
but I've always read it as…
6 HOMERUN To left field (Double Column Result, use # 5)
What say you John Herson?
Pastor Rich followed up with this snap of the APBA Baseball Master Game instructions from the APBA website.

Now, I had to read this three times and I am still not sure if I get the gist of what it saying.  I think essentially it instructs that "first column results for the 6 stay "as-is".  Second column results are subject to change.
Point-counterpoint
On the other hand, there is some credence that this is not an instance of awkward wording but it indeed meant to be taken literally. John Kalous and Chris Shores both contend that the APBA Company has ruled at the National Convention that the intent of the rule is to apply to all players with double columns even if their 6 is in the first column.
Chris says:
The Twin Cities tournament interprets the rule as a 'if card has two columns, read result as a 5.' One of our members (Kevin Cluff, who is in the APBA hall of fame) said the company has been pretty clear at conventions that this was the intent of the board as part of the algorithm for doubles vs homers. So that is also the way I personally play
Both John and Chris have connections with the Company and I have no reason to doubt them.  If this is true, I bet Kenny Lofton has a couple extra Illowa APBA League homeruns during his career.
The thread on the APBA Baseball group (you can read it here if you are on Facebook) is one of the longest i have seen.  And despite the differences of opinion, it is good-hearted and fun which makes that group so great.
My question to you all is this… How have you interpreted this rule?  When a double column player hits a first column 6 with a runner on third, how do you rule it?