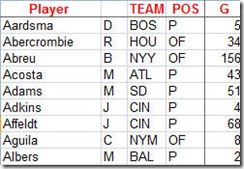 Thanks again to our fantastic commish at the IAL, we have the MLB stats in Excel format (zipped).
The spreadsheet includes:
pretty much all hitting and pitching stats
games played at position
pitchers' hitting
a plus for APBA fans, certain offensive stats/36 PA so you can approximate hitter's APBA cards.
plus a lot more!
Plus those with Excel skills can sort and filter to their hearts' content.
You can download the Excel file here. I hope you all can find it useful.