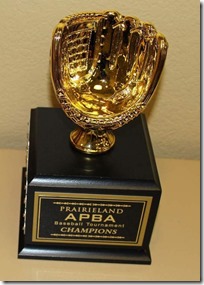 Eric Berg is busily preparing for the Prairieland 2 tournament draft/selection process.  While the tournament itself isn't until April 1, 23 tourney participants will begin selecting their teams and accompanying fantasy deadball players beginning this weekend in a snake-style draft.  Eric spells it all out here on his blog, Red 11.
Eric also posted a final list of participants.  If you signed up and somehow got left off, please let us know.  Once we're set, the order will be randomized and we'll begin this weekend.
The tourney will consist of teams from 1970-2000 but each one will have help from one fantasy deadball player which will also be chosen in the draft.  I'm curious about APBA Blog contributor Scott Fennessy's take on this.  Scott is our deadball expert.
I assure you, he has not given me any inside info… yet (don't hold out on me, buddy). 
Truth be told, I already have my A-list of teams and players picked out.  I generally don't go into the team selection process with a real competitive attitude. I pick teams that are interesting to me (see last place '87 Cubs who I took a few tourneys back). 
Good luck in the draft process, guys!!