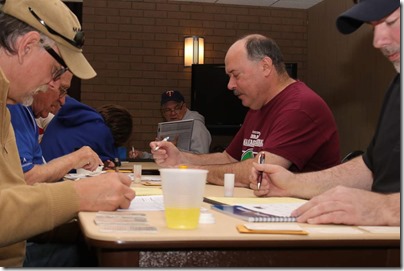 It's been a week since the Prairieland 2 tournament and I finally had a chance to compile the stats for my 1985 Los Angeles Dodgers.  In the ten games, we went 3-7.  We slightly improved as the tourney progressed.  My Dodgers (plus fantasy player 1901 Napoleon Lajoie) lost the first five games but went 3-2 the rest of the way.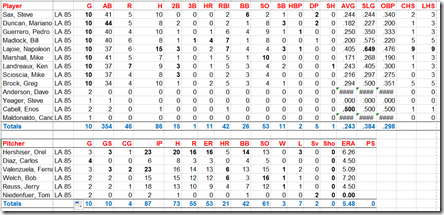 Some highlights
– My fantasy deadball player '01 Napoleon Lajoie was by far the most productive player.  He batted .405 (15 for 37) and 7 rbis both team bests.  After going 0 for 2 in game 1, he got a hit in every remaining game.
– Bill Madlock only hit .200 (8 for 40) but half of his hits were for homers for the team lead.  As a result, he tied Lajoie for rbis with 7.  One those dingers broke up a no-hitter by Rube Waddell who was pitching for Gordon Rodell's 1990 A's in the 9th inning.  Mad Dog was also involved in a identity crisis when he faced himself.  Mike Hill's 1987 Detroit Tigers had Bill Madlock playing third as well.  The result?  Both Madlocks combined for five homers in the two games.
– Once third place hitter Pedro Guerrero started hitting, we did better.  Pedro was 1 for 19 in our first five losses.  He broke out in game 6 with four hits and in the last five games, he was 9 for 21.  Overall, he batted .250 with six rbis.
-Greg Brock who batted ninth, was a bit of a pleasant surprise. He batted .294 with a couple of dingers and five rbis.
There aren't too many pitching highlights.  I was amazed how many homeruns we gave up (21 in ten games).  Orel Hershiser (AYZ) was particularly ineffective going 0-3 with a 6.26 ERA and 14 walks allowed in 23 IP.
Our pitching which included a starting rotation of A-A-B-B boasted a team ERA of 5.48.  Tom Niedenfuer was 2 for 2 in save situations though.
Elsewhere on the Tournament circuit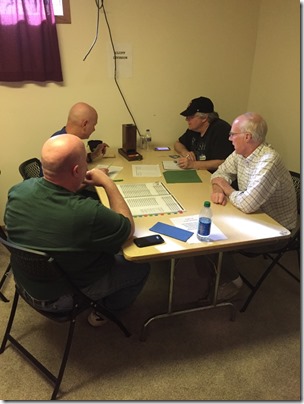 My takeaway?  Hitting wins games.  Chicks dig the longball, right?  Just look at Jim Fraasch's article over Jim's APBA Barn entitled "How to win an APBA Tournament with an all "C" pitching staff …".  Yes, on the same day Prairieland 2 took place, the Twin Cities APBA Baseball Tournament was also going on.
When Dick Butler was mowing down Prairieland opponents with the 1977 Phillies, Jeff Boeding was doing the same up in the St. Paul area with the 1930 Yankees.  Jim's excellent article goes into detail on Jeff's selection process of a team with lots of hitting but maybe less-than-stellar pitching could go all the way.  There's more info on TCABT-VII here.
Congrats Jeff!!