Cubs win! Cubs win!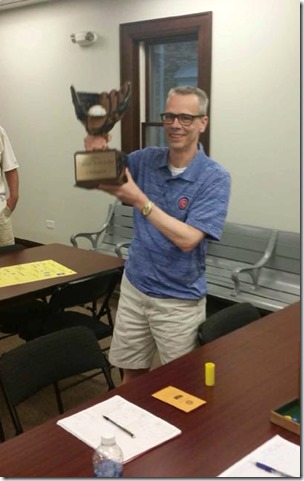 [photo courtesy Doug Schuyler]
The 2016 Chicagoland Summer Fantasy World Series APBA baseball tournament in Grayslake, Illinois is now over and the Cubs come home victorious.  Thanks to skipper Bob Eller who piloted the 2015 Cubbies to the tournament championship.  He won the final game over Craig Christian's 1979 Milwaukee Brewers. 
Of course, Bob's 2015 Cubs had a little help.  As each team could choose a fantasy player from the same franchise, He enlisted the services of 1930 Hack Wilson to bolster the offense.  Craig's Brewers brought on modern day Ryan Braun to give the '79 Brewers a little help.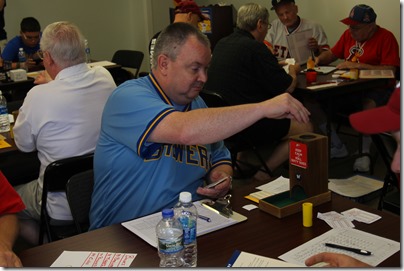 Craig Christian's tower took him almost all the way… almost. 
The game between Bob and Craig was a culmination of a tournament comprised of a full slate of 32 teams managed by APBA players from around the northern hemisphere.  Two players, Dan Velderrain and Mike Miller traveled from California for the tournament.  Two more, Howie Mooney and Reese Mooney came from Toronto, Ontario, Canada.  Others came as far as Michigan, Ohio, and Iowa.  While Dan, Mike and the Mooneys came specifically for the tournament, organizer Doug Schuyler made sure there was plenty to do on the days prior to the tournament.  That included MLB games at Wrigley, Comiskey, Miller Park.  Doug should get a job as a entertainment director.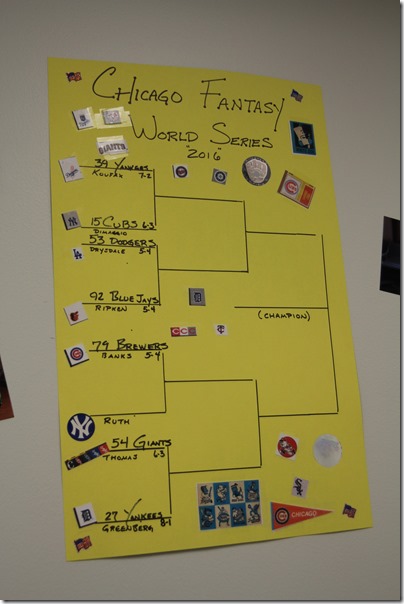 The tournament was once again held at Grayslake Historical Society and that is proving to be a very hospitable location.  The director there is very friendly to our cause and isn't concerned with loud dice rolling or if we stay a little later.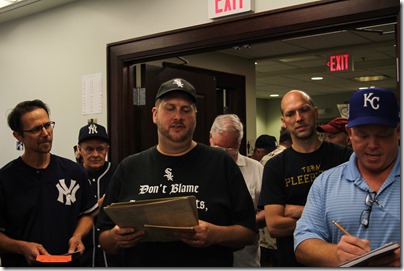 The AL skippers during the All-Star Game
Once again, the tournament action was broken up by an All-Star Game.  It was a two-inning affair using players from all teams.  Every player batted regardless of outs.  Bob Eller piloted the National League to victory over the American League 5-3.  The All-Star Game, by the way, is a very fun to take a break from the tournament regulation play.  Lots of chaotic fun! 
My only regret this time is that I had to catch a train and couldn't stay to see Bob win his championship.  Bob has done well at previous tournaments so it was good to see him take one home.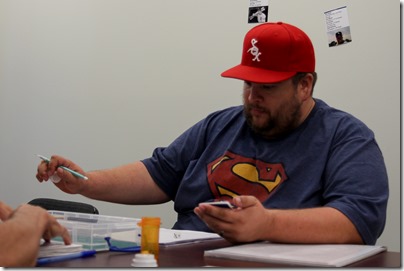 Who has Barry Bonds?  Ken Schulz does!
It was great to see all who participated.  I reconnected with folks again and met others like Dan Velderrain, Mike Miller, Howie Mooney and Ken Schulz (great guys!). 
By the way, I'll be posting soon on the performance of my 1930 St. Louis Cardinals + 1998 Mark McGwire.  Spoiler:  McGwire had 16 of the total team's 38 strikeouts.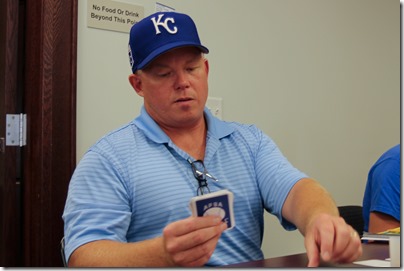 Doug Schuyler has proven again that he knows how to organize a successful APBA baseball tournament where all can have fun.  Thanks, Doug!!