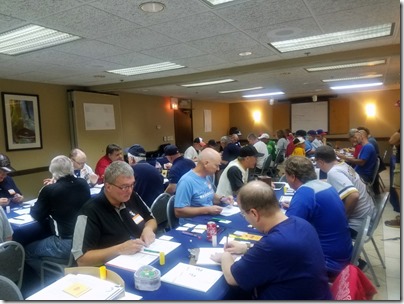 There is something about APBA that brings people together.  Whether it is the basic game league I'm in, the Illowa APBA League which is now going on its 43rd year or forums like Between the Lines or Facebook APBA Baseball group (which I hear is now at 2,400 members), APBA fans of all backgrounds want to meet and talk sports and they game they love. 
That was no more apparent than last weekend at the Chicagoland APBA Tournament organized by Rob Spatz.  I've been to seven of these and every time I attend, I'm still amazed by the people I meet and get re-acquainted. 
This weekend, I got an early start and came down on Friday afternoon.  Why?  Tournament-goer Don Smith and I had a nine-game series to play for the Illowa League.  When we went downstairs to the "tourney room" in the hotel, diligent Rob Spatz was preparing for the next day.  Don and I were originally planning on playing in our room but we thought, "hey, this room is set up to play APBA" and we rolled away. 
We even had an audience for a few games.  Rob, Jeff Boeding, Ron Emch and Dick Glisinski were biding their time till they went to the ballgame in Gary.  That made it that much more fun.  Well, as fun as it could be with Don winning the first four.  Never fear, the Thunderchickens won four of the last five (we blew a 8-1 lead in that loss, too). 
So how did my Mets do?
The Champions of Chicagoland: I faced five of them in divisional play
On Saturday, it was tourney time for my 1976 Mets.  I was in the Smoky Burgess Division which had the distinction of having FOUR former Chicagoland champions in Curt Bartel, Scott Fennessy, Bill Lilley and Vince Bianco.  By the end of the day, it would have one more in Tom Johnson who won it all. 
My Mets started out slow but with a three-game winning streak toward the end, we actually ended up with a winning record at 5-4 and one game out of the playoffs.  It was Bill Lilley's 1965 Pirates led by Vern Law who put down Tom Seaver (who was 2-0 with a shutout until then). 
My main slugger Dave Kingman (1-1-5-5) clouted five homers in nine games but only drove in eight runs.  It seemed Milner was hitting his 14s a lot.  Perhaps if I had batted him ahead of Kong?
Regardless, even though I come to compete, the most satisfying aspect of these tournaments is the social one.  It was fantastic to see us fill the room. 
Superstitious?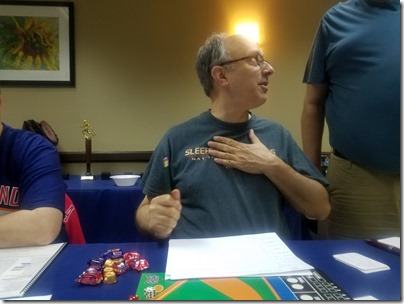 Above, reigning tourney champion Vince Bianco explains that he wore the same shirt when he won the championship the last time.  Not only that, those bite-sized candies that Vince is using as baserunner markers are the same ones from last time also. 
Alas, Bianco's 2011 Cardinals only went 2-7 in regulation play. 
Chicagoland APBA Hockey??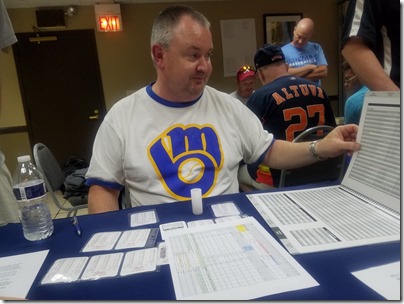 I saw Craig Christian walking with an APBA Hockey box in his hand while the playoffs were going on.  One thing led to another and before you know it, he was giving me a demo of the game.  As he talked about it, a crowd gathered around the table. 
It's the first time I've seen APBA Hockey and really appreciated the tutorial. 
Worth mentioning are the people who traveled distances to play in this tournament.  The Silvis family, Brian, Kate and Phillip came from Pittsburgh as did Ken Schulz.  John Roels and GF Korreck journeyed from Grand Rapids, Michigan, Ron Emch (glad to finally meet you!) drove from Toledo and Mike Hill came all the way from Louisville, KY.  Jeff Boeding came from KC and my buddy Don Smith drove I-80 from Iowa. 
Most importantly, we all owe Rob Spatz a big thanks for this.  He has taken a great thing that Doug Schuyler and Jim Saska put together and not only kept it alive but making it grow.  Rob is humble about it but I know he put a lot of work into it.
Chicagoland Fall Tournament date set for November 11! 
A side note:  In my Illowa series on Friday, Don Smith's Freddie Freeman hit a homer in each of the last four games.  When I returned home, I played my Boys of Summer Urbana Locomotives against Brad Stark's Portland Microbrewers.  Freeman also plays for him.  He went homerless in Game 1 then homered in five straight.  That means against me, he hit a homer in 9 of ten straight games. 

For the weekend, Freddie Freeman hit 11 homers with 27 rbis in 15 games against me. I'm glad I didn't face him in the tourney!