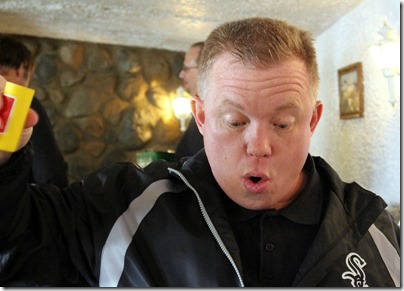 Doug Schuyler is excited about the next Chicagoland tourney
Yes, the next Chicagoland APBA World Series Tournament is in the planning stages.  Started in the summer of 2013, this will be the fifth one in the series.  Tournament organizers Jim Saska and Doug Schuyler are already planning a new one for the summer.
Here are the tentative details from Jim:
The next Chicagoland tournament will take place on Saturday July 25th at 8:30am at the Grayslake Historical Society, 164 Hawley Street in Grayslake, IL.  RSVP as soon as possible, participation will be held to the first 40 to sign up.   Currently, we have 23 people signed up.

The museum will be hosting a special exhibition during that time highlighting Chicago Baseball and the museum's director, Dave Oberg, will be on hand to give participants a personal tour.  An announcement regarding the rules to be forthcoming.
To RSVP, send a note to Jim Saska at trainman1964(at)sbcglobal.net or leave a comment below and I'll make sure he sees it.
Unfortunately, I won't be able to make it but I know Scott Fennessy is already choosing his team.  He's narrowing down to about 15 by now, I think. 
Here are some photos from the last one in November. 
Good luck, everyone!