Tom Johnson and Phillip Silvis get ready to face off in the final game
On Saturday, August 5, Chicagoland crowned its ninth champion.  At the Chicagoland Summer APBA Tournament, Tom Johnson and his 2005 Houston Astros defeated Phillip Silvis and the 2014 Pittsburgh Pirates to win the tournament championship.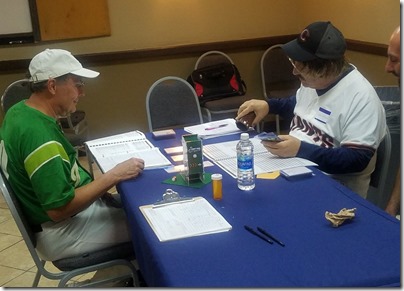 John Roels' 1929 Giants v. Larry Eichman's 1963 Giants
To get the final, Tom and his Astros had to defeat Chet Wazio (1974 Oakland A's) and Dave Rueck (2015 Houston Astros).  Phillip beat Don Smith (1977 California Angels) and John Roels (1929 New York Giants).  Three Giants teams made it to the playoffs.  Tournament veterans Curt Bartel (2001 Giants) and Larry Eichman (1963 New York Giants) also made it as far as the first round.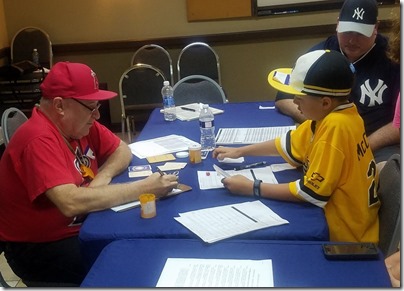 The veteran (Don Smith) and the kid (Phillip Silvis)
Congratulations to Tom and Phillip as well as Chet, Don, Dave, Don, John, Larry and Curt! 
Tom was one of two managers pitcher to have a no-hitter.  Roger Clemens hurled a no-no for him in the Smoky Burgess Division in regulation play.  In addition, Masahiro Tanaka of the 2015 New York Yankees also pitched a no-hitter for manager Kate Silvis. 
It must have been karma for Tom Johnson.  He took the time to prepare a nice thank you card for organizer, Rob Spatz.  He somehow got everyone to sign it during the early part of the tourney then presented it to Rob before we broke for lunch.  During his presentation, Tom made a nice speech saying that "this tournament is heaven to me".  I think that echoed the sentiments of many in the room.  It was a very nice thought on the part of Tom and very well deserved by Rob. 
Rob turned this empty room…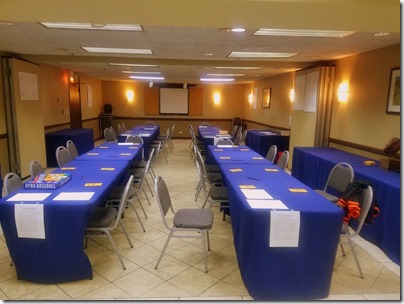 into this…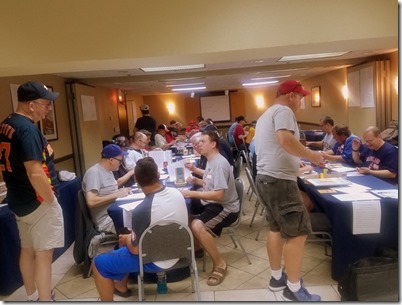 and this…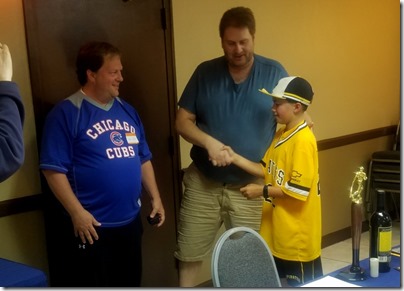 thank you!!
Congrats again to Tom Johnson!! It was great to meet you.  Thanks for representing our division!!