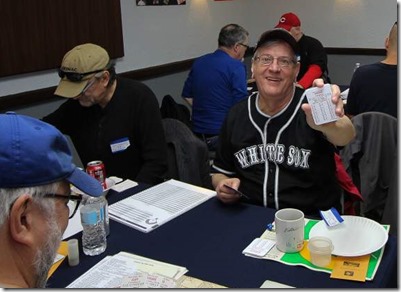 Don't worry.  Pops Spatz won't be bringing Aaron this time
I'm planning on attending the 2017 Summer Chicagoland APBA Baseball tournament on August 5th.
Who's with me?
Oh wait, there's a list…
1 Rob Spatz 2016 Toronto Blue Jays
2 Bob "Pops" Spatz 2010 Texas Rangers
3 Gary Lindley 1959 Milwaukee Braves
4 Chet Wazio 1974 Oakland Athletics
5 Todd Daniels 1997 Seattle Mariners
6 Bob Eller 1998 Cleveland Indians
7 Jim Welch 1941 Boston Red Sox
8 John Roels 1929 New York Giants
9 Larry Eichman 1963 San Francisco Giants
10 Ken Schulz 1977 Cincinnati Reds.
11 Kevin Burghardt 1980 Montreal Expos
12 Kurt Bergland 1973 New York Mets
13 Craig Christian 1980 Milwaukee Brewers
14 Ryan Daniels 1923 Cleveland Indians
15 Justin Schubert TBA
16 Maddelyn Vanicelli TBA
17 Curt Bartel 2001 San Francisco Giants
18 Eric Berg 2008 Minnesota Twins
19 Doug Schuyler 1982 Atlanta Braves
20 Clark Eichman 1964 Minnesota Twins
21 Mike Hill 1996 Baltimore Orioles
22 Don Smith TBA
23 Kyle Daniels TBA
24 Thomas Nelshoppen TBA
25 Dave Rueck * TBA
Organizer Rob Spatz says he's capping the attendance at 36 so sign up now!!  See how fun the last one was!!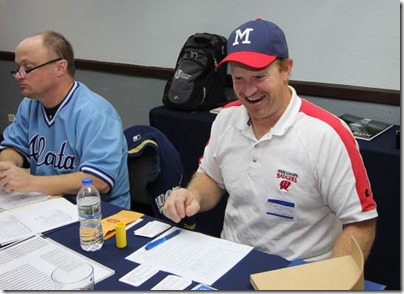 Curt Bartel sure is excited about going!
Summer 2017 Chicagoland Tournament Info and Rules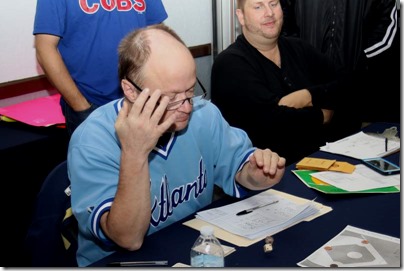 "Oh no, rules…"
SATURDAY, AUGUST 5, 2017
Comfort Inn – O Hare 2175 Touhy Ave, Des Plaines, IL 60018
Doors Open at 8:30 AM. Games to start by 9:00 AM, with the Championship slated to be completed by 7 PM.
TEAM SELECTION INFORMATION
Basic selection premise: Select any MLB team 1901?2016 that ended the season with a .556 or less record. In a 162 game season, that means any team with 90 wins OR less. The only team excluded due to being a past tournament winner that meets this criteria is the 1964 Los Angeles Dodgers. Multiple Franchises may be selected.
GENERAL HOUSEKEEPING
WHAT YOU NEED TO BRING:
*Your team
*Dice
*Boards. We will be using the most recent booklet form of board to provide general uniformity. Copies will be available the day of the game.
*Score sheets will be provided but you may bring and use your own!
*Roster sheet with your team. (For rosters with stats,visit www.baseball?reference.com)
* $20 Entry Fee. The fee goes to cover the cost of the room and tournament expenses.
DAY OF GAME SCHEDULE:
Ø 8:30 AM – Doors Open. Games to be played.
Ø 9:00 AM – Introductions, and National Anthem
Ø 12:30 PM – 1:30 PM. Lunch. Options will be presented before the day of the tournament
Ø 1:30 PM. We will either have a pseudo All-Star game or go back to game play depending on the status of games remaining.
Ø @ 6:00 PM – Championship
Ø 7:00 PM – Optional Post Tournament Dinner at El Meson
MOST IMPORTANT!
IN THE WORDS OF DOUG SCHUYLER:
"REMEMBER TO ROLL SLOW AND HAVE A GOOD TIME!"
Tournament rules
Housekeeping rules
•the basic game will be used. The home team manager decides; pitcher vs. DH and advanced or basic fielding.
• in order to keep a sense of uniformity, the most recent booklet form of boards will be used. If you do not have them, copies will be provided the day of the tournament
• you may bring any mlb team 1901?present that finished the season with a .556 or less record.
• 25 man max roster.
• Please bring a roster sheet with copies to be passed to the opposing manager before each game. Roster sheets should have full name with position and stats for that season only.
• any player rated j-0 thru j-3 may start. Cards without the j rating at the bottom of the card will be limited to pitchers with more than 100 innings and position players with greater than 100 at?bats. Any rostered player may enter starting in the 6th inning. Any position player injury before the 6th inning will allow for any player that fields the injured players position to enter. Any injury for a pitcher is nullified until the 6th inning, with the game results standing.
• any injury is only sustained for that game. The player may return to the lineup for the next game.
• a pitcher must bat in the 8th or 9th spot in the batting order to start a game. A pitcher may pinch hit or pinch run, but may not be used as a dh.
• dice must be rolled on the table or in a box
• re?roll both dice if they go off table or out of box
• there is no limit to the use of a relief pitcher from one game to the next.
• all pitchers will be a straight grade d starting in the 13th inning. (no x, y, z, k, r, or w) their fielding rating will not be altered.
• there are no rainouts. You came to play APBA!!!!!!
Divisional play
• we will cap our capacity to 36 teams. Assuming that we reach capacity, there will be 4 divisions of 9 teams each. Each team in the division will play every team once for a total of 8 games.
• there will be a 4 man pitching rotation, with each starter pitching a total of twice in divisional play.
• a schedule of division play will be provided before the start of the tournament. It will list the home/away matchups and the order for pitching rotations. Games can be played out of order. The schedule only serves as a guide for pitching rotations and home/away.
• each team will have a total of 4 home games and 4 road games in divisional play.
• the top two teams from each division will move onto the playoff rounds.
• tie breakers: head to head, run differential among tied teams, runs scored, coin toss. A playoff game will only be implemented in the event that we have extra time and is approved by the tournament director before play begins.
• one division head will be chosen to assist in keeping track of scores.
Pitching
• a 4 man rotation will be used. Set your rotation and stay in that order for all divisional play games. Note that the schedule will provide the given matchups. Games can be played out of order, as the schedule is only a guide for play. For instance, your first opponent is the 7th game on the schedule. You will pitch your 3rd starter even if it is your first game played.
• no j?4 starting pitcher may start
• no reliever (denoted only by an asterisk by the pitcher's grade) may start.
• observe APBA pitching improvements and decreases. With the following exception – all runs credited will be earned or unearned.
• starters must pitch at least 5 innings unless affected by grade reduction.
• relief pitchers with *asterisk are limited to two innings or 6 total outs.
• pitchers with straight grades or split grades are limited to 3 innings or 9 total outs when used in relief.
• any relief pitcher is advanced one letter grade, but not beyond grade a, for only the first batter they face in the middle of any inning if he throws from the opposite side of the plate..
• pitching rotations stays set until the championship game.
• in the championship game, any pitcher rated as a starter may start. A relief pitcher may not start.
• your starting pitcher cannot exceed 9 innings unless they are pitching a no-hitter. Beyond the 9th inning, they must be removed if they give up a hit at the end of that inning.
Fielding
• total team fielding will be used.
• no player can start the game at a position for which he is not graded.
• a player can not be used at any time in a position for which he is not graded, if another player is available to enter the game and could be placed in the lineup in way that would result in no one being used at a non?graded position. Please
do not try to bend the rules or find loopholes. Let's all just have fun!
• any player who does not have a fielding rating for a position will be considered the lowest fielding rating if placed into the game.
• the manager must declare deep or in with a runner on third base. If not declared, the infield will be considered deep.
Baserunning
• a manager must declare whether or not a runner is holding/playing it safe. If they are holding/playing it safe, they would only advance as far as the batter. Example, with a runner on first base and the batter doubles, the runner would
only advance two bases and go to third and not score despite the board result. All board steal results or thrown out trying to steal results are negated if the manager was holding/playing it safe with the runner.
• no limit to sacrifice attempts.
• no limit to hit n run attempts.
Playoffs? Playoffs!
• there will be a total of 8 playoff teams. There are two leagues – left side and right wide (names to be determined later) with each side having two divisions. The top two teams from each division will advance. The first round will see the second place team from division 2 at the first place for division 1, second place from division 1 at first place division 2, second place from division 3 at first place division 4, and second place division 4 at first place division3. Pitching rotation is considered refreshed so any starter can start. Your starter for the league championship in the next game will be resting and unable to relieve, however your number three and four starters may relieve. Best record followed by playoff run differential will determine home field for the league championship and game one of the World Series. League championship will see your second starter start that game. Rotation resets for the championship, which will be a best of three affair with home field alternating between games. Your fourth starter may relieve.