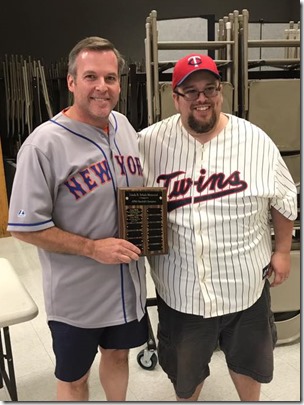 Ken Schulz knows how to throw a big event, that's for sure.  This past weekend, in Slippery Rock, PA, near Pittsburgh, Ken hosted 50 APBA fans and 45 teams for the third Linda B. Schulz APBA Memorial APBA Baseball Championship tourney. 
With all those participants, it makes all that harder to win it all.  In the end, it was Steve Skoff and the 1974 Dodgers who came out the victor.  It was Steve Yeager's walk-off homer in the 10th inning against Bill Lilley's 1965 Pirates that sealed the deal for Steve and Dem Bums. 
And what is it with Greg Wells?  The two-time APBA tourney champ went 12-1 at LBS 3.  I guess the fact that he had the 1975 Reds helps but Greg must be a master at this game.  My bud Rob Spatz also made the playoff too!  Spatzie was thrilled to win one playoff game with the 1963 Yankees.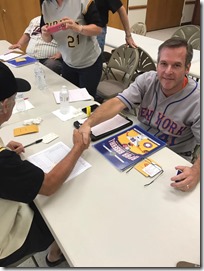 Ken is already busy planning next year's LBS 4.  Schedule the date!
When: July 7th, 2018 at 9am
Where: 155 Branchton Road
Slippery Rock PA 16148
Teams: any Apba issued MLB team from seasons 1950-2017. No BATS, HOF, Negro League, and teams prior to 1950 allowed. The 1977 Phillies, 1974 Dodgers, and 1965 Pirates have been retired.
Congrats to Steve for a great run.  Ken deserves a lot of credit for putting together a great tourney!  I've been hearing a lot of good stuff on Facebook about how fun it was. 
Photos courtesy of Ken.