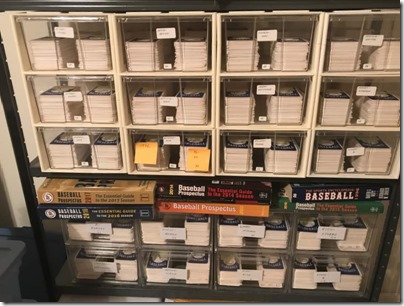 So, I was contacted by a lawyer yesterday.  No it isn't like that.  Attorney Sarah Johnson of  Holifield and Associates is the executor of an estate in Knoxville, Tennessee which includes a large cache of APBA cards.  Perhaps some of you know the person who passed on.  Regardless, I would love to put APBA cards back in the hands of those who enjoy them.  As you can see from the photos, there are plenty to enjoy too.
Ms Johnson says:
I am an attorney in Knoxville, Tennessee, and I am the executor of an estate containing a very large collection of APBA Baseball Cards, including cards from 1935 through at least 2010.  I have photos of the collection that I will be happy to send.  There are many additional cards in original boxes as well.  The buyer will need to travel to Knoxville, TN to purchase the set, as we do not have the time or resources to ship these items. My phone number is (865) 566-0115.
Please note that buyers will need to travel to Knoxville to pick them up. Ms. Johnson may have more photos later this week for anyone interested.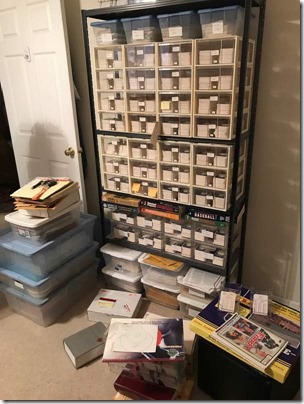 Whoever this was, he was very organized and had a nifty method of storing his cards.  I do not know the status of his sets but Ms. Johnson stated that anyone interested in this collection can contact her at sjohnson@holifieldlaw.com. Keep in mind that she is lawyer and not an APBA fan.  She will only be able to answer the most basic questions about their condition.
If anyone DOES buy this collection, I'd love to hear about it.  Drop me a note.