John Brandeberry traveled 1,582 miles to get to the 44th Illowa APBA League convention but it was well worth it.
Last weekend, Brando who manages the Missoula Rattlesnakes flew into Chicago O'Hare airport and won the Illowa APBA League Championship over runner-up Marcus Bunch's Moline Upperdeckers.  Ryan Schimpf was a key offensive threat, hitting five homers during the series.
The Rattlesnakes had a stellar 2017 season going 97-65, seven games over Bunch's Upperdeckers.  The Colona Hustlers manager, Dan Bunch (Marcus' brother) came in third place and earned his first playoff appearance.  For that, he was voted IAL Manager of the Year.
If that isn't enough family references for you, how about this?  Don Smith's Molly Putts Marauders and brother Keith Smith's Kentucky Kernels tied for the last playoff spot.  As IAL rules dictate, a one-game playoff ensued.  Rumor has it that it was quite a game.  Not only was it an extra-inning game but Don scored one run in the top of the inning and Keith scored two in the bottom of the inning to win and advance!
All hail to Brando, our now current IAL champion!  Congratulations to Dan Bunch who is our Manager of the Year!
Playoffs got done early on Friday so Commissioner Mike Bunch with consultation with the rest of us, made the decision to draft that night. I have to say it was one of more intense IAL drafts we've had.  Why?  A few reasons:
Managers were going after the same positions… pitching, catchers
Two of managers were off-site so we had on-site managers on the phone with them taking their picks
And there were trades during the drafts
Trades?  Well, let me tell you about that.
The Story of my First Round
I was woefully unprepared for this draft.  I was overstocked in the middle infield.  Three secondbaseman and three shortstops.  Now Dan Bunch (Manager of the Year, remember?) knew that and made me an offer months ago to relieve me of one of my shortstops but it hinged on another deal with another team.  Well, I didn't follow up and it fell through (I thought).
Fast forward to the draft.  When the draft started, I was texting Dan to see if he would consider our deal again.  We have a 5-minute limit for each pick but our first round goes pretty quick usually.  Most managers know what they want.  When it came to my pick, I took my full five minutes.  See, by that time, I was on the phone with Dan who was still at a work function.
"Do we have a deal?"

"For the 2nd pick?"

"Sure"

"Except you will need to talk to Keith and make sure he will do Braun for Russell."
Remember, I am still on the clock for the first pick.  The other managers are no doubt tapping their feet impatiently.
So I walk over to Keith and ask him to step out in the hotel hallway.
"So umm, Keith.  This is a little awkward but do you remember that deal you had with Dan?.  Braun for Russell?"

Oh yeah, Dan didn't want to that."

"He does now"  Do you?

"Wait what?"

"I'm talking to Dan. He wants to know if you know if you will still do Braun for Russell?"

"Yes, I'll do it"
Yes, I am still on the clock for the first pick.  I rush over to Commissioner Mike Bunch and officially announce my trade.  Then, with very little time to spare, I walk over the table where the rookie cards are and announce my first round pick…
"Ian Happ!"
So what was the deal I made with Dan?
Trea Turner <—> Kyle Schwarber
Joc Pederson <—> 2nd round pick
Dan got the big prize in Trea Turner.  He knows it and I know it.  What I got was increased flexibility which I desperately needed due to lack of planning on my part.  I also got a slugger who hit a ton of homers in March for me.
2018 IAL Draft
How about the rest of the draft?  Once again, firstbaseman Cody Bellinger is drafted number one by Scott Fennessy as he was in the Boys of Summer APBA League draft. Outfielder Aaron Judge who was still available in our draft, was an easy second pick.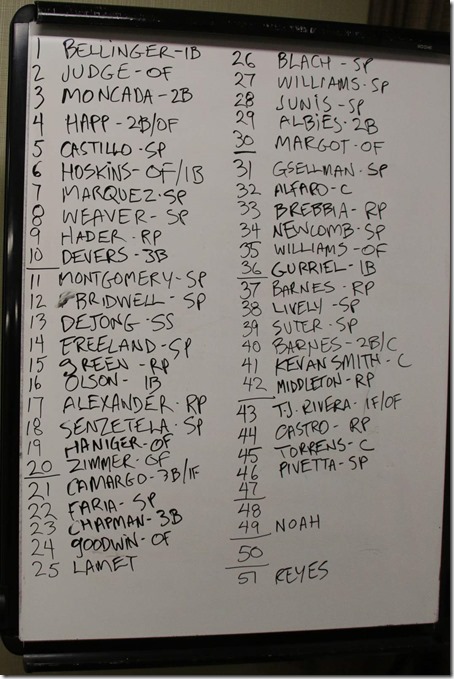 This is how our first round went:
| | | |
| --- | --- | --- |
|   | Round One | Player |
| 1 | Dragons | Cody Bellinger |
| 2 | Bombers | Aaron Judge |
| 3 | Highlanders | Yoan Moncado |
| 4 | T-Chicks | Ian Happ |
| 5 | Hitmen | Luis Castillo |
| 6 | Marauders | Rhys Hoskins |
| 7 | Kernels | German Marquez |
| 8 | Hustlers | Luke Weaver |
| 9 | Upperdeckers | Josh Hader |
| 10 | Rattlesnakes | Rafael Devers |
2018 IAL season begins
By Saturday morning, we were ready to play!  We played from dawn to dusk.  The IAL has divisions only for scheduling purposes.  During our weekends, we play inter-divisional series and we play six games series against the five teams.  I managed to get all but four games in.
I didn't have high hopes for the Twin City Thunderchickens going into the off-season so I was a little surprised when we came out the weekend with a 16-10 record.  We even won eleven games in a row including a six game sweep against Brando's World Champion Rattlesnakes.
I haven't done my stats yet but it seems that Yasiel Puig is doing well driving in runs.  Kyle Schwarber has hit the 11-1 a lot more than he did the 31-13.  Early on, I made the decision to lead Kris Bryant off and that was a good decision.  He seems to be getting on base a lot.
There's one player who I'm not real excited about.  Believe it or not, it's JD Martinez with his 1-1-1-6-6 (and his five 24s).  His 24s haven't killed too many rallies but other than his 1s, he really hasn't produced yet.  I'd rather have Happ or Brian Goodwin out in the field.
More photos from the IAL draft weekend here.
thanks to the Illowa guys for a great weekend!