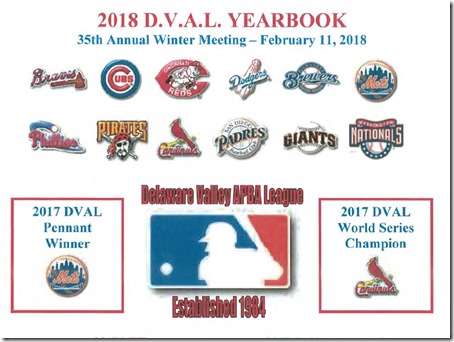 I recently heard from Dick Moore who hails from the Delaware Valley APBA League.  I love hearing about different leagues and Dick gave me snapshot of what the 35-year old league was all about…
"In case you're wondering, we are a 12 team league and draft only from 14 NL teams (not COL – long story).  Anyway, that's why you won't find any mention of players like Jeter, A-Rod, etc. in our records.  They never played in the DVAL.  It does make for some interesting drafts because veteran star players who move to the NL appear in our draft.  Guys like Roy Halladay when he first came to the Phillies, Randy Johnson when he came to HOU, etc.  The other good thing about it is a bad team can get good faster because of those kind of guys being in the draft."
Now, I had heard about NL-only or AL-only leagues before but the draft factor was something I had never thought of before.  A new "rookie" coming into a league in prime of his career is a whole new ball of wax.  In addition, I'll bet the limited draft pool makes for a more balanced league.  Less monster teams and more realistic lineups.
Dick was gracious enough to share the 2018 D.V.A.L. Yearbook.  Dick thought OAPBA's yearly yearbook was awesome but I think D.V.A.L.'s is pretty impressive too.  Like OAPBA's, it is massive with plenty to devour.
I particularly enjoyed looking over D.V.A.L.'s Hall of Fame section and the members' career stats.  Like our Illowa APBA League, Mike Schmidt was a charter member.
D.V.A.L. will be meeting on February 11 for their 35th annual Winter Meeting.  Good luck this season, guys!
Thanks for sharing a glimpse into your league, Dick!  I'm always impressed with every league I come into contact with.
Sometime, I want to hear the COL story.  :)