My Twin City Thunderchickens didn't know what they were getting into when sat down for the very first game of the Illowa APBA League season. By the time we were done, my guys needed a nap.
Facing off against Keith Smith's Kentucky Kernels at last weekend IAL draft weekend, we entered into an epic battle that lasted for 22 innings.  As far as I can recall, that is a team record.
At the end of nine innings, the Thunderchickens and the Kernels were tied 5-5.  Giving credit where it's due, J.D. Martinez and Yasiel Puig both homered in the sixth inning to bring us within one.  Kris Bryant tied the game with a basehit single in the next inning.
Then it was goose eggs for a long time.
In the 20th inning, Welington Castillo homered for Kentucky but Twin City wasn't giving up yet.  Wilson Ramos who had entered the game in the 16th inning, grounded in Asdrubal Cabrera to tie it again 6-6.  Send rookie Antonio Senzatela out for another inning.  What a rude introduction the IAL for Antonio.  He pitched six innings in relief.  Fortunately, he comes home for the win.
Kentucky scored one in top of the 22nd inning but J.D. Martinex doubles in a run and then with Ramos up, scores the winning run on an E-6.
Game over.  Thunderchickens 8 Kernels 7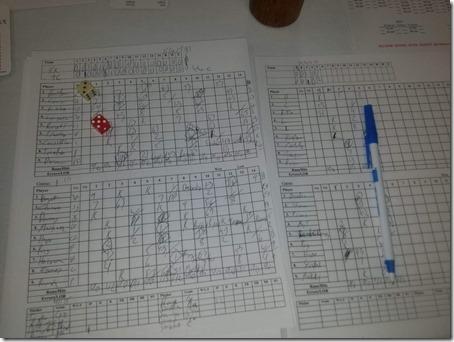 Above you see the mess of a boxscore that comes from a 22 inning game.  Don't judge.
I use this scoresheet which I created and you can download here.  It allows for 14 innings.  Once we got to the 15th inning, I should have started a new sheet but in my infinite optimism, I thought, "I can squeeze in one more inning.  Surely, one of us will score a run".  Yeah well, we didn't.
By the numbers
J.D. Martinez and Asdrubal Cabrera each had 10 at-bats
The Thunderchickens had a total of 17 hit in 83 at-bats.
Starter Tanner Roark went 7 inning.  Senzatela almost matched with six (and a win!)
Every Thunderchicken bench player was used forcing rookie Antonio Senzatela to bat for himself
Nick Markakis entered the game in the 9th inning and still batted six times
Martinez struck out four times but is probably the player of game.  He was 2 for 10, 2 runs, 2B, HR, 2 rbis,
Keep in mind, the IAL managers are all playing and we have to keep on a schedule.  We play six games against five different managers for the weekend.  While others were wrapping up game 3, Keith and I are trying to finish this first game.  Keith's brother Don leaned over, "What game are you in? The first?!"
Fortunately, we were able to catch up.
I started to do my team's stats last night.   Game 1's took about a half to do and that was that.  I'll save the rest for later.